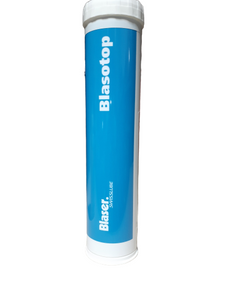 Blasolube 301 is a multi-purpose grease of high quality, soft consistency and a wide range of application.
Range of Application:
Blasolube 301 is suitable for speed roller- and sleeve bearing lubrication for medium to high numbers of revolution under normal operating conditions. Ideally suited for the application of woodworking machines, machine tools, etc.
Product characteristics                                                    Advantages
– Infusible                                   ➔ Prevents lubrication deficiencies at high temperatures
– Broad temperature area of application            ➔ Large range of application
* NOT AVAILABLE FOR US RESIDENTS
Shipping is simple and easy.
Once your order is placed, one of our representatives will contact you to provide a shipping quote and to complete transportation arrangements. If there are shipping fees to be paid, a separate transaction will be processed to cover shipping costs.
Our shipping fees start at $0.00 and vary based on order size and transportation distance.
FAQs
When will I be contacted to arrange for shipping?
Our representatives will contact you within one business day but typically reach out within one business hour.
Will my credit card be charged for the order before shipping arrangments are made?
We will never capture funds on your payment card before you agree to the shipping arrangments. The amount of the transaction will be authorized on your payment card, but will not be charged and captured at checkout.
What if I do not want to proceed with the shipping arrangements and want to cancel my order?
Not a problem! Your order will be cancelled, and the authorization transaction will be reversed. Because no payment was captured on the card, the authorized amount will be dropped, and it will be much quicker than a typical refund transaction.
Have any questions? Feel free to contact us at 514-633-1088 from Monday to Friday from 9:30am-4:00pm Eastern Time.
Have any questions?
One of our Technical Sales Representatives would be glad to assist!
Click here to fill out our contact form and one of our representatives will get back to you within one business day.