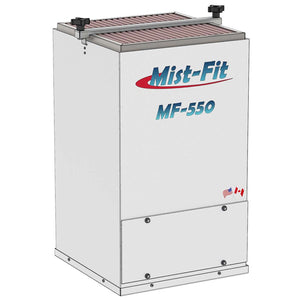 Mist-Fit MF-550 500-600cfm Oil Mist Collector
Compact and big on performance.
Mist-Fit is a compact mist collector with a fibre bed filter at an affordable price.

Fibre bed filtration has proven to be superior to other filter technologies.

Ideal for high pressure coolant and oil applications.

Oil drains back to cnc machine.

With a footprint of 25" x 25", it is easily machine mounted.

Eliminates mist, smoke and fine particles.




With our extensive experience in the industry designing oil mist collectors, we will make sure to provide your company with the cleanest air. Our mission is to provide every customer with 100% satisfaction with all our products and services.