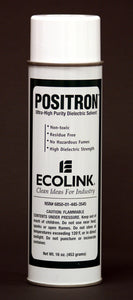 POSITRON contains no oxidizers, and will not cause moisture condensation problems since it does not evaporate too rapidly. Unlike other electrical solvents, POSITRON is non-toxic.
Benefits
Non-toxic
Lower odor
Faster dry-time
More aggressive
Ultra-low residue
Safe & easy to use
No hazardous fumes
High dielectric strength, (ASTM D-877 test procedures to 48,000 volts.)
No SARA or RCRA listed ingredients
Applications
For use by customers seeking a high-performance environmentally preferred alternative. POSITRON is used for a variety of electrical cleaning tasks. Use POSITRON in place of chlorinated solvents for all types of electrical and mechanical cleaning.